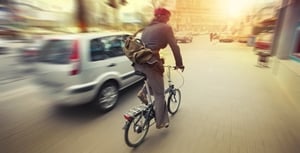 Like other forms of physical activity, cycling – whether it's on a bicycle, motorcycle or other non-enclosed form of self-transportation – carries with it an inherent risk for injury. This can be compounded, however, by the negligent actions of other parties. Whether it's motorists, fellow cyclists or the environment, cycling interacts with personal injury law in several meaningful ways.
"Cycling carries with it an inherent risk for injury."
Rules of the road
Cyclists, like other motorists, are expected to observe the rules of the road at all times. This means obeying all traffic laws, following road signs and directions, and honoring right-of-way privileges for other motorists. Failure to follow these rules can lead to serious injury.
Negligence or recklessness
When a cyclist is injured, the courts take into account whether the injuries were the result of negligence on behalf of the party that caused injury or if the cyclist was injured due to personal recklessness. While neither incident means that a case will automatically be awarded to a defendant or plaintiff, it may inform how they view the events as they transpired.
Hazardous road conditions
While hazardous road conditions are a factor in many forms of accident cases, cyclists are particularly susceptible to injury if the roads are in poor condition. Even if another driver or cyclist was not involved, injuries caused by improperly maintained or unsafe roadways can be a liability for state and county governments. When seeking compensation for injuries from a government institution, though, it pays to act quickly. Some municipalities require claims to be filed within a month of the accident.
The Meyers Law Firm has free consultation lawyers that you can speak to in the event of an injury or accident. Call us today to find out more.